Starset – Vessels Album Review
Last updated on by jEX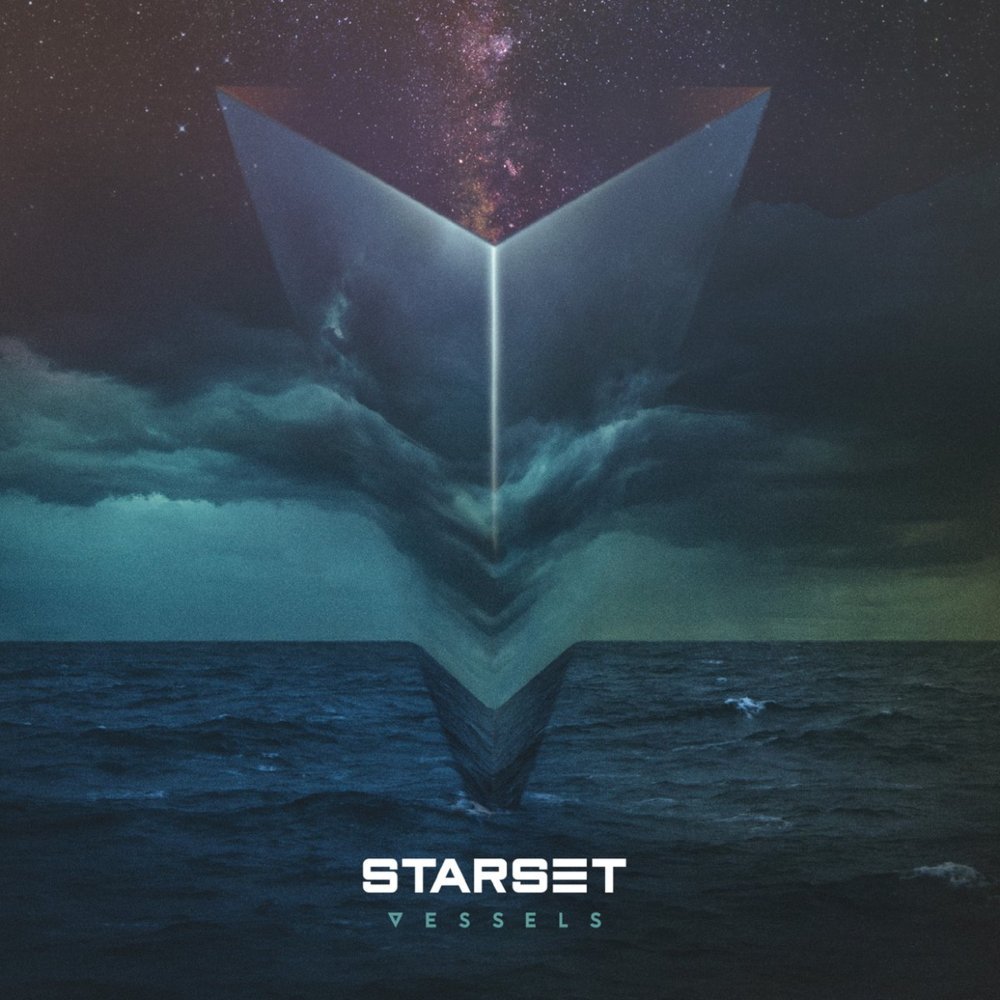 TRD Staff Recommended

The year has only just begun but already we have a high profile release on our hands in the form of Starset's sophomore effort "Vessels". If you've never heard of this band here's the rundown:
Starset is space and science themed rock outfit from Columbus, Ohio founded and fronted by an actual PhD scientist named Dustin Bates. Their music sounds like what you'd get if you crossed the vocals and songwriting of Breaking Benjamin with the EDM infused instrumentation of "Living Things" era Linkin Park, with a little Thirty Seconds To Mars sprinkled on as well. The science and space themes carry over into all aspects of their presentation, from the album art, to the band members performing their songs wearing space suits. Although they'd best fit in the wider category of alternative metal, it might be more accurate to describe them as "cinematic space rock".
Starset first caught my attention back in 2014 with their song "My Demons". To me, it represented one of the few modern rock songs in the post nu-metal era that was actually good, so I was excited to hear what these guys could do with a full album. Unfortunately, I wasn't too impressed with their debut album "Transmissions". With a few exceptions (particularly the awesome album opener "Down with the Fallen", most of the songs just seemed mediocre to me. In a way, this was actually quite strange as it had all the elements that would usually score high in my book: a catchy nu-metalish sound and sciencey lyrics and imagery, but the concept just wasn't executed very well. For one, the record was filled with long, sample laden interludes which were quite annoying having to sit through them to get to the actual songs. The music itself was decent, but it just lacked a certain something, not sure if you'd call it polish, or refinement, but there was just something missing in order to make the songs truly stand out.
Well, whatever it was they were missing, they found it (and then some) on this follow-up. This is easily the best rock album to come out since Bring Me The Horizon's "That's The Spirit" from 2015. The album packs in a whopping 15 tracks, 14 of which are actual full length songs, making for over 70 minutes of music. That's an incredibly ambitious effort, and one might expect there to be lots of filler as a result, but honestly, there's not a bad song to be found here. Almost every song on this album sounds like it was tailor made to be a radio hit, with huge, powerful, melodic hooks on every track, and although the singers vocal range and the bands accompanying backing music don't always have the largest range, there's still a lot of variety to be found here.
The Music and Lyrics
Not counting "The Order", which is just a short instrumental, the first five tracks on the album start things out very strong. "Satellite" and "Frequency" are both big arena anthems that illustrate the use of scientific concepts into the lyrics, with analogies about being someones satellite, or going "out of frequency" with someone in a failing relationship. The bassline heard on the chorus of "Die For You" is reminiscent of BMTH's "Doomed" and the chord progression during the outro evokes some of Hans Zimmer's film score music.
The rock ballad "Ricochet" is the first time things slow down a bit, but it makes for one of the most powerful and emotional pieces, with great lyrics describing a once strong relationship that has deteriorated, and now the two people can no longer communicate.
We were falling away
You left me with a bittersweet taste
But when I send my heart your way
It bounces off the walls you made
Ricochet
The poppier "Starlight" is actually one of the two best songs on the entire album and the one that jumped out at me the most on first listen. This upbeat love song is irresistibly infectious and I could see it being a big hit if it was given mainstream exposure.
The middle of the album ventures into less formulaic territory and also features some of the harder hitting tracks. "Into The Unknown", "Back To The Earth", and "Last To Fall" aren't as immediately impressive and took some time to grow on me, but they pace the album out nicely and I never skip these tracks on a playthrough. "Gravity Of You" is probably the heaviest song on the whole album, and my third favorite. Despite its dark, atmospheric tone, and the sort of screamed, sort of sung chorus, it still manages to be as emotive as the rest. "Bringing It Down" is another head banger that strikes me as a song that would be a great crowd pleaser in a concert setting.
That bring us to "Unbecoming", the other best song on the album. It just feels like everything the band has been trying to accomplish over these past two albums came together perfectly on this one. Its gigantic chorus manages to be both aggressive and melodic, yet Bates never resorts to full on screaming. Its moody atmospherics and buzzsaw leads make it feel both somber and cathartic. Lines like, "tried, but it pushed back harder", really encapsulate the feeling of trying to overcome life's challenges only for life to double down and kick your ass again.
Next up we have the albums lead single "Monster", and it's easy to see why it was chosen. It's a great reintroduction to the band that also shows off how they've evolved and improved their sound. A surprising find at near the end of the album is "Telepathic", a poppy, EDM number that sounds like something Panic! at the Disco would write. If it weren't for the rock oriented nature of Bate's voice I could easily see it doing blockbuster numbers on top 40 radio. Rock and metal purists will likely fault the group for this one, but they'll be secretly bobbing their heads to it in private because it's just so damn catchy.
The albums closer, "Everglow" is a near eight minute opus that at first might seem like the only real misstep, but when taken in properly after listening to the record in full it's actually a really calming, relaxing way to unwind and close things out. At least the first half. It then transitions into an epic chugfest and final instrumental to take us out.
Final Score
9
Amazing
Starset's "Vessels" is a sophomore triumph along the lines of Flaw's "Endangered Species", Ill Nino's "Confessions", and Disturbed's "Believe".
🏷️ Filed Under: