UFC 217: Bisping vs. St-Pierre Results
Last updated on by jEX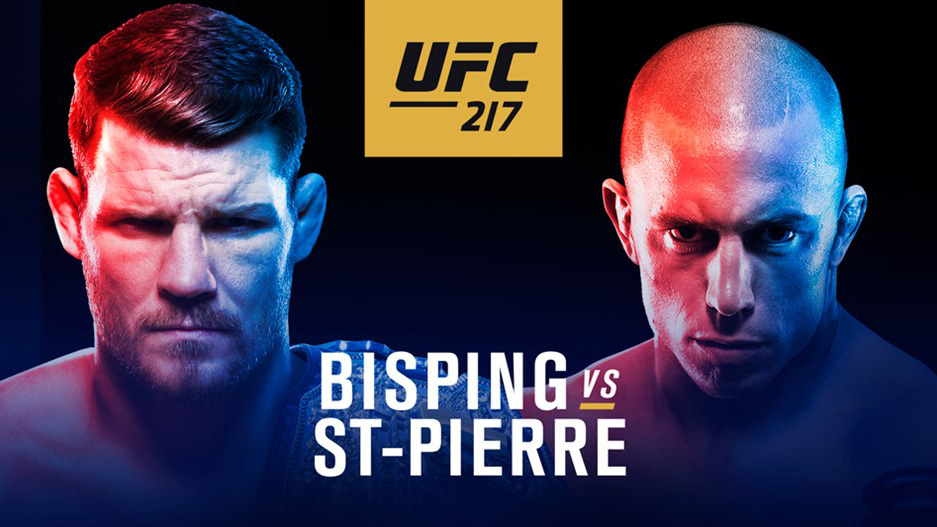 Johny Hendricks vs Paulo Costa
Going into this one I couldn't help but root for the American, Hendricks, who came out to country music, but right off the bat you could tell he seemed outmatched to the younger and in better shape Costa. Even when Hendricks landed some hits, Costa taunted back at him like it was nothing.
There was some kind of foul in round 2 by Costa where the ref had to separate the two, but Hendricks didn't want to take the timeout he was given. He just wanted to keep fighting. Despite this, Costa started landing some bombs near the end of the round and the ref called it.
Winner: Costa by TKO.
Stephen Wonderboy Thompson vs Jorge Masvidal
Stephen "Wonderboy" Thompson kept Masvidal on his toes with an unorthodox style and strange side kicks. Thompson had his hands low throughout the fight, bouncing around, and seemed to be ready for anything. Despite this showing of composure and control, Wonderboy did have more visible redness and damage from the few attacks that Masvidal managed to get in.
Thompson may have broken his thumb during the second round, as he said he couldn't make a fist by the third. During the final round the two were pretty evenly matched, and both got a little bloody. The match ended up going to the judges who declared Thompson the winner.
Winner: Thompson by unanimous decision (30-26, 30-27, 30-27)
Joanna Jędrzejczyk (C) vs Rose Namajunas
Women's Strawweight Championship Fight
Rose appeared smaller and less cocky, while Joanna Jędrzejczyk put on a tough bad bitch image. The hostility between these two was the highest of the whole night, and they didn't touch gloves when squaring off.
Rose managed to send Jędrzejczyk down early, which was surprising, but a sign of things to come. Once Jędrzejczyk got back up it wasn't long until Namajunas brought her down again with a strong left hand. This time, Namajunas laid into her with a flurry of punches and Joanna tapped out due to strikes at 3:03 into the first round.
Afterwards, in the post-fight interview with Joe Rogan, Namajunas was very humble in, refusing to acknowledge her excellence, saying she was a regular person and said that in these trying times socially and politically she wanted to put out a message to others to "just be a good person". Rogan said it was an honor to call her match.
Winner: Namajunas by KO to become the new champion.
TJ Dillashaw vs Cody Garbrandt (C)
Bantamweight championship
This was another match with some tension and no glove touch to start things off. I believe the rivalry stemed from one of the UFC's fight camp reality shows, but I don't watch any of that stuff so I'm not completely sure.
The first round was slow paced, with one moment of explosive recklessness between the two, and a knockdown punch to Dillashaw that left him wobbly at the end. During the second round the crowd chants seemed to be hating on Dillashaw, although I couldn't quite make out what they were saying. Didn't seem to affect him because right as they were chanting Dillashaw landed a left high kick that knocked down Garbrandt and set the stage a bit later into the fight where a right hook dropped Garbrandt again, followed by the usual onslaught of punches, and the ref called the fight. Garbrandt was quick to get right back in Dillashaw's face even after it was called.
Afterward, there was an odd moment where someone, possibly Dillashaw'sshaws training crew, yelled at Cody from outside.
Winner: Dillashaw by KO to become the new champion.
Bisping (C) vs St. Pierre
Middleweight championship
This was the fight we all had been waiting for with so many questions going into it. As a fan, it was great seeing GSP back in the ring again, and since he moved up in weight for this fight he looked bigger than we've ever seen him before. There were a lot of boos for Bisping both during his entrance and when Michael Buffer introduced him, which might normally be odd for a champion, but not one against such a popular opponent as GSP, and especially not when considering all the trash talk from Bisping before the fight.
In the first round GSP looked good. He was landing a lot strikes, remained composed, took Bisping down once, and landed a punch that wobbled him a bit. Some point in the first round Bisping's cup broke which posed a worrisome hazard for him going into round two. It was in this round that GSP seemed to start slowing down. Odds are the extra weight was gassing him out, but he managed to get a takedown. Unfortunately for him, Bisping got back to the feet pretty quick, and GSP took more hits.
In round three it seemed like GSP was abandoning the stand up striking game and going straight to the ground which was always his strongest area. He didn't have much luck here though, despite dominating on top, and he took some mean elbows to the nose that cut him open, and he started to bleed pretty bad. He abandoned the ground game and went back to his feet where he was visibly having some trouble seeing with a face soaked in blood. You would have been forgiven for starting to have some doubts at this point. However, as the round was winding down, GSO managed a left hook that sent Bisping to the ground and St-Pierre seized the opportunity to apply a rear naked choke. Bisping impressively refused to tap out resulting in him passing out, giving GSP the win. Afterwards, Bisping was far more respectful, confirming all his shit talking was for entertainment and remarked that GSP has a "hell of a fucking squeeze".
While GSP may have struggled some, mostly due to the change in weight class in my opinion, he stayed focused and managed to secure the win. He mentioned he wanted to take this higher weight class fight for the challenge, but also said he wouldn't want to repeat this fight again, so I wouldn't be surprised if he returns to the more comfortable welterweight division. Eitherway, GSP demonstrated once again why he's one of the all time greatest in this sport.
Winner: Georges St. Pierre by technical submission to become the new champion.
🏷️ Filed Under: